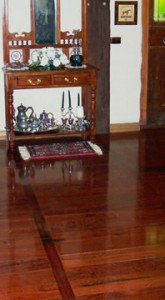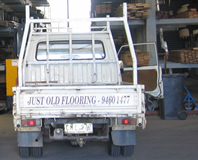 Rick and Val Venn began Just Old Flooring in 1995, working from our Reynolds Road, Research property. This was a delight to our customers, who enjoyed the hills, horses and kangaroos and our Heeler dog "Ash". However, in September 2001, when lack of space became a critical factor, we moved to a rented factory near the Preston market, where we stayed for five years.
In June 2006, we purchased a factory at 28 Blaxland Avenue, Thomastown (next to the Ring Road) and over the next few months, Rick installed the racking system and then gradually moved the stock over. After approximately 50 large truck loads, we were in and finally opened the doors and started trading on September 11th of that year.
Rick has gradually made improvements to the factory. We have laid sample floors in the showroom to display the wide variety of our stock to its best advantage.
Rick has spent 40 years in the building industry, and his knowledge and experience is of inestimable value to those customers who want advice or who just call in for a chat about their future building plans. "Tyre-kickers" are welcome! Please call in for a browse. If Rick is not available, Ross, who has been with us since 2001, will be able to help.
After having built Just Old Flooring and operating for 19 years, Rick and Val have decided to hang the boots up and retire.
My name is David Mergianos and I have the pleasure in taking over such an unique business.
I have been a floor sander/installer for 22 years, working mostly on domestic homes and a few commercial jobs. I have also worked with Borthwick floors who are truly the pioneers of the floor-sanding industry. Doug Borthwick's father started sanding floors in 1948 and the experience and knowledge you acquire would take you over 50 years to master.
I feel this business is an extension of my industry and hopefully I can pass on some of my knowledge to my customers. I am more than happy to discuss questions on laying, sanding, staining or polishing an old floor or even a new floor.
Please feel free to visit us at 28 Blaxland Avenue Thomastown 3074.