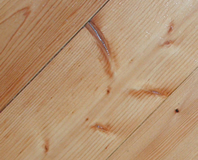 Baltic Pine is a softwood originating from northern Europe and Asia. Our Baltic Pine is from Australia. Baltic Pine is very light in colour ranging from cream to yellow. It has dark tight grain lines running throughout its timber. Baltic Pine Flooring works well with many types of stains and polish.
AVAILABLE WIDTHS- 80 – 185 mm
We have a wide selection of recycled Baltic Pine floorboards, contact us to find out more and get a quote.